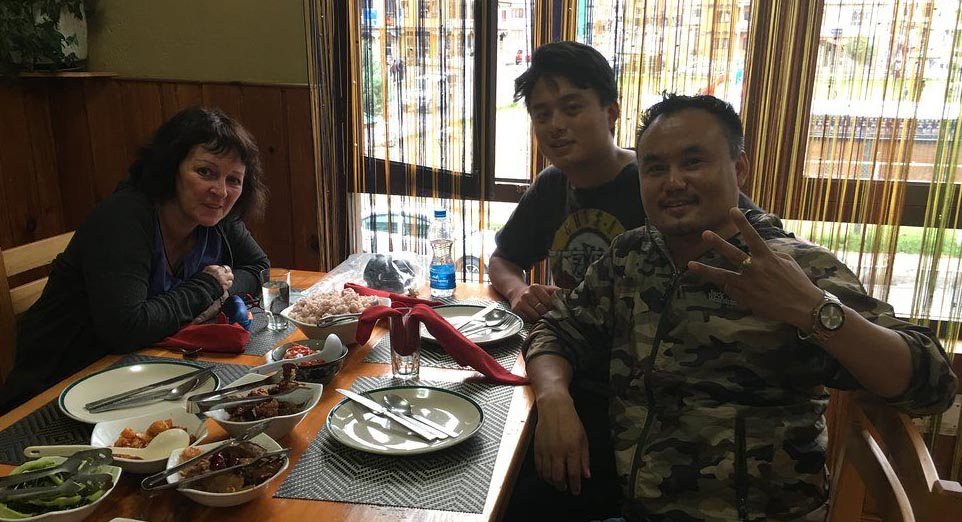 Naveena Yates (UK)
Sangay and Norbu my guides and new friends made my tour fantastic!
When I wanted to visit Bhutan last summer I learned that I would have to take a tour in order to visit this beautiful mysterious country. I had travelled India and Nepal extensively and through all my years of visiting new lands, I had never felt the need to have guides or an organised itinerary. So when I landed in Paro for the first time, I knew that I must stay openminded and appreciative. As planned I was met at the airport on time by two lovely gentlemen dressed in traditional Bhutanese dress. The vehicle was ideal and we drove into town with my guide Sangay in the backseat chatting about all we were seeing, while Norbu (the best driver I have ever seen) focused steadily on the road but smiling at our light-hearted conversation. I knew immediately that I had been matched with two of the most wonderful individuals I would ever meet. I am a Law of Attraction enthusiast so I had attracted the best according to my tastes and needs.
We spent 8 days driving around the Bhutan through the misty mountains and the rolling green hills. We stayed one or two days at each location and the hotels were upscale rustic hotels situated in the most splendid landscapes. I constantly felt like I was in a mountain dream. Bhutanese food is wholly satisfying and healthy. The staff at each Inn were polite and helpful.
I did visit Bhutan in the begin of July so this was Monsoon and the summer temperatures were perfect with warm in the day and cool in the evenings. The hot springs. I had longed to visit were not available at this time because their locations are farther into the mountains and Monsoon weather would prevent such visits. I guess I will have to make another visit to try the hot springs which are so famous in this region.
I was very sad to say goodbye to my two guides, Norbu and Sangay who had taken care of me like family. We still chat on Whatsapp or Facebook and for me the country and the tour were all about them and how happy we were driving around in ease and laughter.